Best Florida Poured-In-Place Rubber Installation Services

Poured-In-Place Rubber Surfacing, also known as PIP, is considered by an increasing number of schools, public playgrounds, and parks with play areas. This product has various advantages, including protection, ease of maintenance, and its obvious beauty. Do you want to learn more about Poured-In-Place Rubber surfacing in your area? If your neighborhood requires a clean and appealing playground surface, our company provides the best quality and most reliable rubber surfacing solutions.
Our company provides a variety of items that we can build in your state and around the US. The PIP Rubber is an appealing and long-lasting PIP substance. The surface is also hygienic, dependable, and durable. A child is less likely to be seriously injured if they slip on this surface. We are a one-stop shop with everything you would need to build a long-lasting playground surface.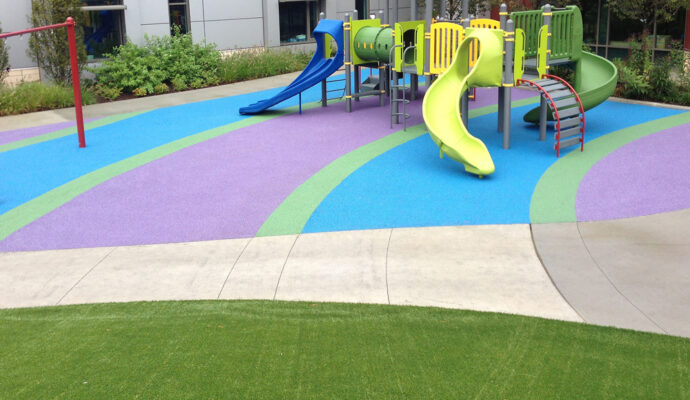 Excellent Quality Guaranteed
We have been providing the best quality solutions since our establishment, and our portfolio now encompasses the construction of over two million square feet of protective surfaces and outdoor areas. We've completed projects ranging from the most simple to the most sophisticated graphic designs. Anything from delivering a fair quote, to completing the process is handled expertly by us. So you have no reason to hesitate to call us if you're looking for a safety surfacing expert.
We not only install our products efficiently, but we also use our expertise to test your current playground surfaces and ensure that they follow the requisite protection and quality requirements. If your surfaces need care and maintenance, we will have a competent team to assist you. Our list of completed facilities includes both indoor and outdoor playfields. Florida Safety Surfacing has a long list of satisfied customers all over the world. Municipal engineers, landscape architects, and parks & recreation departments were among the participants. PIP rubber has also been installed by school districts, churches, the military, and a variety of other organizations.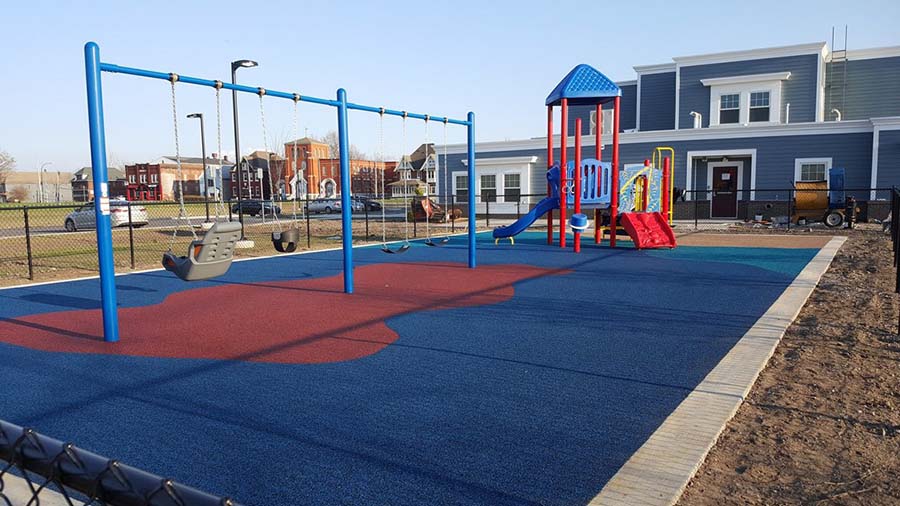 We Don't Say No To Any Project
---
In your territory, our company provides expert rubber playground surfacing architecture, construction, and installation services. We can perform any task, no matter how big or small it is. We'll be glad to talk about the many choices with you. For more details, give us a call today for a no-obligation quote!
A two-layer framework is used for PIP surfacing. The impact-absorbing layer of the surface is the bottom layer, which is made of SBR (Styrene Butadiene Rubber). The SBR base is made entirely of recycled materials that would otherwise end up in a landfill. The top layer is a colored coat made of EPDM (Ethylene Propylene Diene Monomer) synthetic rubber granules that serves as the surface's wear path. Our qualified in-house installation team custom mixes PIP surfacing on-site to produce a smooth safety board.
Through us, you can create any styles, banners, patterns, and colors you have in mind. Logos can be made on our surfaces as well as, traditional games like Hop Scotch, Four Square, and Tic Tack Toe are pleasing to the eye and they add play value to your custom poured board. Our surfacing complies with the industry norm for determining the accessibility of surface structures under and around playground equipment.
Benefits Of Poured-in-place Surfacing
Simple to maintain; highly durable; seamless slip-resistant surface; drains water quickly; ADA (Americans with Disabilities Act) certified. Complimentary for wheelchair accessibility; can be mounted both indoors and out; consistent shock absorption; the surface is well installed making sure that the material does not move out of place.
Here Are A Few Questions Which We Usually Get Everyday:
---
What Is PIP Rubber Surfacing For Playgrounds?
PIP rubber is a kind of playground flooring that is smooth and made up of tiny rubber granules that have been glued together. It isn't flimsy stuff, like rubber mulch, wood chips, sand, or dirt.
Below is our list of additional services:
Locations We Serve
We offer the above surfacing services at the following locations within Florida: