Best Florida Playground Safety Surfacing Installation Services

Safety surface for the playground is an ideal gift that you surprise your children with. You may wonder which material should be used by Florida Safety Surfacing for installing the playground safety surfacing. Then don't panic, as rubber surfacing is highly recommended for the many benefits that it offers. It can also be a premier choice for you as it is readily available at an affordable price. Here are some of the benefits that you may enjoy from rubber surfacing.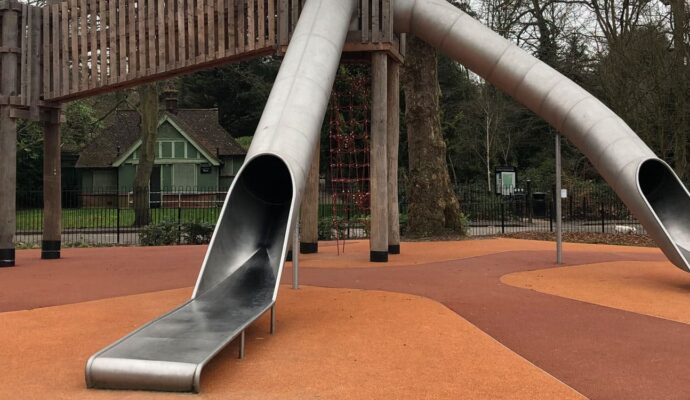 A soft and non-rigid surface can significantly reduce the amount of damage inflicted on anyone who trips and falls over the ground. It's the reason playground safety surfacing is becoming increasingly popular in America. Hundreds of thousands of community playgrounds and school playgrounds have installed surfacing materials only in the last decade.
Its because safety surfacing material helps in absorbing the fall impact and thus reducing the degree of damage caused. With playground safety surfacing, you can effectively ensure the safety of kids playing, running, and falling on the ground.
Florida Safety Surfacing helps in installing safety surfacing materials on the playgrounds. We're a full-service safety surfacing company offering services in the entire country. Contact us now and book your services with us for the best results.
Surfacing materials for playground surfacing
Here are some of the best safety surfacing materials you can opt for: 
Synthetic turf
Synthetic turf is mostly used in professional sports fields for sports such as football etc. However, it's also used for playground surfacing. Synthetic turf is easy to install and looks like natural grass. It requires no mowing and can withstand high foot traffic.
As there's a layer of rubber installed underneath the synthetic fibers, its acts as a suitable surfacing material for playgrounds. It can absorb the fall impact and offers decent protection to kids. In addition, it's available in different lengths and is noninfectious, which makes it safe for kids and even pets.  
Rubber tiles
Another useful playground surfacing materials that do the job are rubber tiles. Rubber tiles are easy to install and offer amazing protection in playgrounds. Rubber tiles are made from recycled materials, which makes them environmentally friendly and safe.
Rubber tiles are found in interlocking patterns, which makes them easy to install. It's available in numerous color patterns, which prove to be attractive for kids. In addition, it has commendable shock absorbing power, which makes it safe even for high-traffic regions such as playgrounds.
Some users think of rubber tiles as a costly surfacing material. However, if you consider the long term, it's worth the investment. It's the upfront cost of the installation, which is high. Otherwise, rubber tiles stay intact for quite a long time. And even if it gets damaged, rubber tiles can be easily replaced. You need not pull off the entire flooring. A single faulty tile can be replaced.
Why choose Florida Safety Surfacing
Florida Safety Surfacing has been in the playground protective surfacing industry for quite a long time. Since the beginning, we have handled hundreds of projects successfully. The materials we use are safe for the environment, come with a warranty, and affordable too. So, you can trust us. Also, our safety surfacing experts measure the critical fall height before selecting the right material thickness. It helps in absorbing the maximum impact of the fall and thus offering the required protection.
Contact us
We have the safety surfacing experts with the required experience and skills. In addition, our playground surfacing services are affordable and available across the country. Also, we offer free quotes. So, contact me now, book your quotes and get the process done.
Below is our list of additional services:
Locations We Serve
We offer the above surfacing services at the following locations within Florida: